---
Using 911facts.dk
How do you get the most out of this site?
---
Truth Movement
---
Publications
---
Booking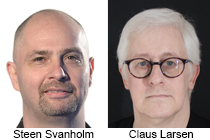 We are available for booking a lecture or a workshop
here
.
---
Facebook

---
WTC 1 & WTC 2 on fire
After WTC 1 and WTC 2 was hit by the hijacked Flight 11 and Flight 175, the fires developed uncontrollably until the supporting steel beams, weakened by the high temperature, no longer could support the construction.
Sequence