---
Using 911facts.dk
How do you get the most out of this site?
---
Truth Movement
---
Publications
---
Booking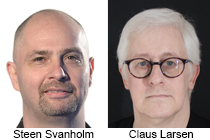 We are available for booking a lecture or a workshop
here
.
---
Facebook

---
Booking
The editors behind 911facts.dk, Claus Larsen and Steen Svanholm, are available for lectures, courses and workshops about conspiracies.
Lectures, courses and workshops can be fitted to suit your needs: Length, content, price. We will always find a way that satisfies all parties.
Lectures
There will be time allotted for questions and debate in all lectures
September 11, 2001: A Day of Terror
Steen & Claus describe how the terror attack was planned and carried out by the terror organization al Qaeda, and what the catastrophe meant for the time following. Claus lived in New York City, and shares his personal experience. The lecture is well suited for history/social studies.
Conspiracy – theory and truth
In this lecture, Claus and Steen deals with the most common conspiracy theories about the terror attack on September 11th 2001. We also unveil why some people become conspiracy theorists, and how to handle it.
Conspiracy theories – what are they?
Steen and Claus tell about the most popular conspiracy theories and explain their popularity. We also unveil why some people become conspiracy theorists, and how to handle it.
Terror and Conspiracy Theories
In this lecture, Claus and Steen draw a line between conspiracy theories and terror: Why do these conspiracy theories emerge, who are behind them, are the theories valid in any way, and is there a causation between terrorism and the thinking behind conspiracy theories?
Download folder here (in Danish).
Courses
Handling Conspiracy Theoretics
In this course, Claus and Steen offer a practical guide for dealing with conspiracy theories.
Workshops
Conspiranoia
For this workshop, Claus and Steen works together with you, to create a teaching track, for you and your students (15-years and up). The students will learn about issues like evaluation and verification of sources, the scientific method and critical thinking.
All lectures, courses and workshops are available in Danish and English.
Feedback
"One of the biggest and best anti-conspiracy websites is run by a team in Denmark."
Rob Palmer, columnist, Skeptical Inquirer
"Steen Svanholm and Claus Larsen have really dug into the mysteries of conspiracy theories. They know what they are talking about, and they have a lot of experience in communicating their knowledge. Because of the striking correlation between conspiracy theory and religion, we had invited them to give a lecture for the Union of Religious History in the fall of 2017, and we were not disappointed. Steen and Claus gave an entertaining lecture, with a string of well prepared arguments, analytical models and points of view with regards to the subject, and we could all go home wiser, after a very cozy evening in Copenhagen."
Board of Directors, Union of Religious History
"In their talk called "Conspiracy theories – What? Why? Whereto?" Claus Larsen and Steen Svanholm presents their unique research into conspiracy theories in general, and 9/11 in particular. Their knowledge in the area is second to none and the delivery is excellent. Highly recommended!"
Pontus Böckman, Vetenskab och Folkbildning/Swedish Skeptics Association
"Thank you for a great and instructive course, and thanks for the site with all the good articles."
Dorte Thelander Motzfeldt, VUC Vestegnen
"Thanks for a great course today. It was enormously educational, and we are looking forward to using your material and good ideas."
Anders Bentsen-Bøhm, VUC Vestegnen
"I've been looking forward to this! It is the best lecture I haven't heard yet!"
Aksel, Nr. Snede
Calendar
Nr. Snede Bibliotek
Nr. Snede
22. March 2023
Lecture
Tre Falke Skolen
København
14. September 2022
Lecture, not public
Tårnby Bibliotek
Tårnby
02. March 2022
Lecture, public
SkeptiCamp Monterey
–
08. january 2022
Public lecture (online)
SkeptiCamp NYC
–
11. December 2021
Public lecture (online)
HK Copenhagen
Copenhagen
29. november 2021
Lecture, not public
Rotary
Copenhagen
21. october 2021
Lecture, not public
Vetenskab och Folkbildning
–
6. September 2021
Public lecture (online)
Rambøll
Online
15. March 2021
Lecture, not public
Ekstra Bladet
København
11. September 2020
Chat with readers
Dragon*Con/Skeptics Track
–
6. September 2020
Public lecture (online, Claus Larsen)
DIS
Copenhagen
3. March 2020
Guest lecture, not public
Sønderborg Bibliotek
Sønderborg
21. November 2019
Lecture, public
Horsens Gymnasium & HF
Horsens
7. October 2019
Lecture, not public
DIS
Copenhagen
1. October 2019
Guest lecture, not public
DIS
Copenhagen
12. April 2019
Guest lecture, not public
DOF Yogaskolen i Nyborg
Nyborg
8. February 2019
Lecture, public

DIS
Copenhagen
14. November 2018
Guest lecture, not public
DTU Technical University of Denmark
Lyngby
6. November 2018
Lecture, semi-public
Participant rating: 9.5 (from 1-10)
CSICON 2018
Las Vegas, Nevada, USA
21. October 2018
Presentation of 'The Harrit Syndrome: A New Explanation of Why and How People Become Evangelical Conspiracy Theorists', public
Vidar School
Gentofte
15. September 2018
Lecture, semi-public, w/ Thomas Nørgaard
Tre Falke Skolen
København
11. September 2018
Lecture, not public
Copenhagen Skeptics in the Pub
København
14. May 2018
Lecture, public
Hadsten Højskole
Hadsten
4. May 2018
Lecture, not public
Solvang Bibliotek
København
25. April 2018
Lecture, public
Religionshistorisk Forening
København
2. November 2017
Lecture, public
Vetenskab och Folkbildning
Malmö, Sverige
25. March 2017
Lecture, not public
FOF Syd- og Vestsjælland
Slagelse
15. December 2016
Lecture, public
Round Table Denmark
Aalborg
13. October 2016
Lecture, not public
FOF Taastrup
Taastrup
11. October 2016
Lecture, public
FOF Syd- og Vestsjælland
Korsør
28. September 2016
Lecture, public
Ekstra Bladet
København
11. September 2016
Chat with readers
Kerteminde Efterskole
Kerteminde
1. May 2016
Lecture/workshop, not public
FOF Taastrup
Taastrup
5. April 2016
Lecture, public
Skanderborg-Odder CFU
Skanderborg
11. September 2015
Lecture, not public
Roskilde Gymnasium
Roskilde
9. April 2015
Lecture, public
Nordfyns Folkehøjskole
Bogense
24. March 2015
Lecture, public
St. Rørbæk Forsamlingshus
St. Rørbæk
11. September 2014
Lecture, public
Vojens Gymnastik- og Idrætsefterskole
Vojens
19. September 2013
Lecture, not public
Halstedhus Efterskole
Nakskov
11. September 2013
Lecture, not public
Konservativ Ungdom Aarhus
Aarhus
10. September 2013
Lecture, not public
Skt. Knuds Skole
Aarhus
10. September 2013
Lecture, not public
Himmelev Gymnasium
Roskilde
23. April 2013
Lecture, not public
Allerød Gymnasium
Lillerød
11. April 2013
Lecture on conspiracy theories in general, not public
Herlev Skole
Herlev
9. April 2013
Lecture, FOF, semi-public
CPH West
Albertslund
5. April 2013
Lecture, not public
Viborg Idrætshøjskole
Viborg
19. March 2013
Lecture, not public
Søgård Friskole
Aabenraa
22. January 2013
Lecture, semi-public
Forlev Friskole
Vemmelev
17. December 2012
Lecture, semi-public
Herstedvester Skole
Albertslund
29. November 2012
Workshop, not public
Debatforedrag med Jeppe Severin
København
25. November 2012
Lecture, public
Aarhus Katedralskole
Aarhus
23. October 2012
Lecture, semi-public
Glostrup Bibliotek
Glostrup
13. September 2012
Lecture, AOF, , public
Copenhagen Skeptics in the Pub
København
12. September 2012
Lecture, public
Vejle Idrætshøjskole
Vejle
11. September 2012
Lecture, public
VUC Vestegnen
Albertslund
9. May 2012
Course, VUC teachers staff
SUNDskolen
Nykøbing Falster
18. April 2012
Lecture, 7-10th level
VUC Varde
Varde
22. March 2012
Lecture, VUC and 8-10th level
Frederik Barfods Skole
Frederiksberg
12. March 2012
Lecture, 7-10th level
Debating lecture with Niels Harrit
Amager
19. October 2011
Lecture, public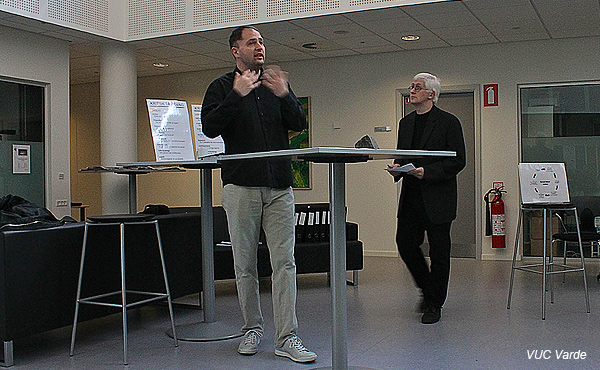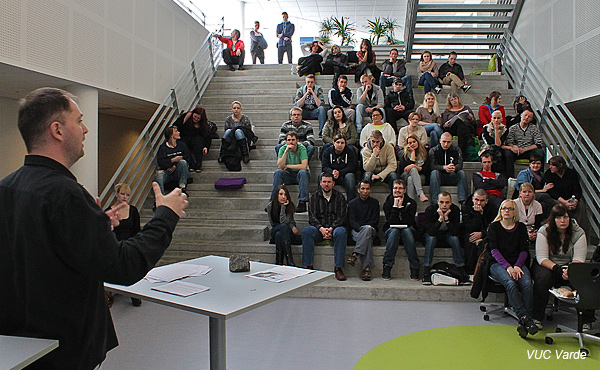 Thanks to photographer Christian Lindharth Nielsen
---
If you want to know more or book us, please contact us here:
Artbeat Booking
Tlf: +45 32 58 25 50
Tlf: +45 30 13 68 73