---
Using 911facts.dk
How do you get the most out of this site?
---
Truth Movement
---
Publications
---
Booking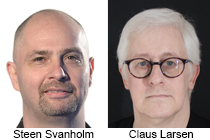 We are available for booking a lecture or a workshop
here
.
---
Facebook

---
NORAD-USNORTHCOM (military)
North American Aerospace Defense Command (NORAD) conducts aerospace warning, aerospace control and maritime warning in the defense of North America. Up to the terror attack on September 11th 2001 the agency was tasked with surveillance of the airspace outside North America, to detect possible nuclear attacks from primarily the Soviet Union/Russia. Following the attack, the airspace above North America was included.
United States Northern Command (USNORTHCOM) was established in 2002 as an organization under the U.S. Department of Defense. Its task is to assist and coordinate support for civilian authorities.

Communication

In the aftermath, hundreds of pages have been released, documenting the communication between the Federal Aviation Administration (FAA), North Eastern Air Defense Sector (NEADS), and North American Aerospace Defense Command (NORAD).

These files containt more than 100 hours of audio recordings from various NORAD/NORTHCOM communication channels, recorded on September 11th 2001.

The files can be found on GovernmentAttic.org, a non-commercial and free website. The site contains numerous publications from the U.S. public sector.