---
Using 911facts.dk
How do you get the most out of this site?
---
Truth Movement
---
Publications
---
Booking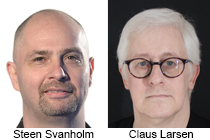 We are available for booking a lecture or a workshop
here
.
---
Facebook

---
Other technical articles
In addition to the official sources, a wide range of single technical articles have been published, covering various aspects of the terror attacks on September 11 2001.
Fire protection
Physics
Engineering
Why Did the World Trade Center Collapse? – Simple Analysis,
Zdeněk P. Bažant, Yong Zhou

What Did and Did not Cause Collapse of WTC Twin Towers in New York,
Zdeněk P. Bažant, Jia-Liang Le, Frank R. Greening, David B. Benson

Mechanics of Progressive Collapse – Learning from World Trade Center and Building Demolitions,
Zdeněk P. Bažant, Mathieu Verdure

Single Point of Failure: How the Loss of One Column May Have Led to the Collaps of WTC 7,
Ramon Gilsanz, P.E., S.E., Willa Ng
Controlled demolitions
Metallurgy
Why Did the World Trade Center Collapse? Science, Engineering, and Speculation,
Thomas W. Eagar, Christopher Musso,
The Minerals, Metals & Materials Society

The Role of Metallurgy in the NIST Investigation of the World Trade Center Towers Collapse,
S.W. Banovic, T. Foecke, W.E. Luecke, J.D. McColskey, C.N. McCowan, T.A. Siewert, F.W. Gayle,
The Minerals, Metals & Materials Society
Seismology
Other technical articles