---
Using 911facts.dk
How do you get the most out of this site?
---
Truth Movement
---
Publications
---
Booking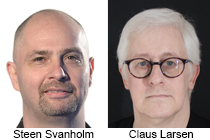 We are available for booking a lecture or a workshop
here
.
---
Facebook

---
NYT (witnesses)
The New York Times collated more than 12,000 pages of testimonials from almost 500 fire fighters and rescue personnel who were present at, or in the vicinity of, Ground Zero on September 11 2001.

All files can be downloaded as PDF.
Name
Function
Date
Notes

---

Abed, Faisel
EMT (EMS)
10/12/01

---

Abril, Roberto
EMT (EMS)
1/17/02

---

Adams, Paul
EMT (EMS)
11/1/01

---

Albuerme, Eloy
Lieutenant (EMS)
10/23/01

---

Altini, Steven
Firefighter (FDNY)
12/7/01

---

Amato, John
Firefighter (FDNY)
1/2/02

---

Asaeda, Glen
Civilian (EMS)
10/11/01

---

Ashby, Phillip
Paramedic (EMS)
1/22/02

---

Attanasio, Christopher
EMT (EMS)
11/9/01

---

Badillo, Benjamin
EMT (EMS)
1/24/02

---

Bailey, Stuart
Firefighter (FDNY)
12/6/01

---

Banaciski, Richard
Firefighter (FDNY)
12/6/01

---

Barrett, Kevin
EMT (EMS)
1/17/02

---

Barry, Albert
Firefighter (FDNY)
1/9/02

---

Bartolomey, Anthony
EMT (EMS)
10/9/01

---

Basile, James
Division Commander (EMS)
10/17/01

---

Battista, Richard
Firefighter (FDNY)
12/6/01

---

Beck, Paul
Firefighter (FDNY)
12/12/01

---

Becker, Brian
Lieutenant (FDNY)
10/9/01

---

Beehler, Michael
Firefighter (FDNY)
12/17/01

---

Bell, Jody
EMT (EMS)
12/15/01

---

Beltrami, Dean
Firefighter (FDNY)
12/17/01

---

Bendick, Thomas
EMT (EMS)
10/15/01

---

Berntsen, Eric
Firefighter (FDNY)
12/4/01

---

Bessler, Paul
Firefighter (FDNY)
1/21/02

---

Billy, Richard
Firefighter (FDNY)
10/10/01

---

Blacksberg, David
EMT (EMS)
10/23/01

---

Blaich, Charles
Deputy Chief (FDNY)
10/23/01
Was home on medical leave on 9/11

---

Boeri, Richard
Firefighter (FDNY)
12/10/01

---

Bohack, Robert
Lieutenant (FDNY)
1/9/02

---

Borrillo, Nicholas
Firefighter (FDNY)
1/9/02

---

Brady, Greg
EMT (EMS)
11/1/01

---

Breen, John
Firefighter (FDNY)
12/12/01

---

Brodbeck, Michael
Firefighter (FDNY)
12/10/01

---

Broderick, Richard
EMT (EMS)
10/25/01

---

Brogan, Derek
Firefighter (FDNY)
12/28/01

---

Brosnan, Neil
Lieutenant (FDNY)
12/12/01

---

Brown, Peter
Firefighter (FDNY)
12/7/01

---

Brown, Sean
Firefighter (FDNY)
12/14/01

---

Brown, Timothy
Firefighter (FDNY)
1/15/02

---

Browne, Robert
Deputy Chief (EMS)
10/24/01

---

Brynes, Adam
Lieutenant (EMS)
10/16/01

---

Buonocore, Vincent
Firefighter (FDNY)
10/12/01

---

Burbano, George
Paramedic (EMS)
10/11/01

---

Burgos, Freddy
EMT (EMS)
10/31/01

---

Burke, Timothy
Firefighter (FDNY)
1/22/02

---

Butler, John
Firefighter (FDNY)
1/9/02

---

Butler, Michael
Assistant Chief (FDNY)
12/21/01

---

Byrne, Michael
Firefighter (FDNY)
1/21/02

---

Byrne, Robert
Firefighter (FDNY)
12/7/01

---

Byrnes, Robert
Fire Marshall (FDNY)
11/14/01

---

Cacciola, Grace
Lieutenant (EMS)
10/24/01

---

Cachia, Edward
Firefighter (FDNY)
12/6/01

---

Cachia, Peter
EMT (EMS)
10/15/01

---

Cahill, Joseph
Paramedic (EMS)
10/15/01

---

Cahill, Michael
Lieutenant (FDNY)
10/17/01

---

Cain, Michael
Fire Marshall (FDNY)
12/20/01

---

Callan, Joseph
Citywide Tour Commander (FDNY)
11/2/01
Relieved Chief Donald Burns as the Citywide Tour Commander

---

Camacho, Fernando
Firefighter (FDNY)
12/12/01

---

Campagna, Frank
Firefighter (FDNY)
12/4/01

---

Canham, James
Sergeant (FDNY)
12/18/01

---

Carletti, Richard
Firefighter (FDNY)
1/2/02

---

Carlock, Owen
Firefighter (FDNY)
12/5/01
Detailed on the day of the incident to Engine 220

---

Carlsen, Craig
Firefighter (FDNY)
1/25/02

---

Carrasquillo, Pedro
EMS command (EMS)
10/16/01

---

Casaliggi, Joseph
Firefighter (FDNY)
1/9/02

---

Casey, Gerard
Firefighter (FDNY)
12/5/01

---

Casey, James
Lieutenant (FDNY)
12/12/01

---

Casey, William
Firefighter (FDNY)
12/17/01

---

Cassano, Salvatore
Chief (FDNY)
10/4/01
Was citywide tour commander on 9/11

---

Cassidy, Tiernach
Firefighter (FDNY)
12/30/01

---

Castellano, Pete
Firefighter (FDNY)
12/27/01

---

Ceriello, John
Firefighter (FDNY)
12/17/01

---

Charles, Jason
EMT (EMS)
1/23/02

---

Chelsen, Roy
Firefighter (FDNY)
1/18/02

---

Cherrington, Andre
EMT (EMS)
10/10/01

---

Chesney, William
Firefighter (FDNY)
12/10/01

---

Chiafari, Joseph
Lieutenant (FDNY)
12/3/01

---

Chillemi, Salvatore
Firefighter (FDNY)
12/17/01

---

Chyriwski, Robert
Firefighter (FDNY)
12/14/01
Responded with Engine 3 and the high-rise unit

---

Cifu, Ronald
Firefighter (FDNY)
12/28/01

---

Cimillo, William
Firefighter (FDNY)
1/24/02

---

Cira, David
EMT (EMS)
12/13/01

---

Cirillo, Brian
EMT (EMS)
10/11/01

---

Citarella, John
Lieutenant (FDNY)
12/7/01

---

Claes, Marcel
Firefighter (FDNY)
10/9/01
Was on the stairs in the north tower

---

Clarke, Charles
Captain (FDNY)
12/6/01

---

Cohen, Marc
Paramedic (EMS)
10/11/01

---

Colon, John
Firefighter (FDNY)
12/6/01

---

Congiusta, Frank
Battalion Chief (FDNY)
1/8/02

---

Conlon, Paul
Captain (FDNY)
1/23/02

---

Connolly, Patrick
Firefighter (FDNY)
1/13/02

---

Constantine, Peter
EMT (EMS)
10/22/01

---

Conzo, Joseph
EMT (EMS)
1/16/02

---

Cook, Louis
Paramedic (EMS)
10/17/01

---

Cook, Robert
EMT (EMS)
10/25/01

---

Cooke, Alan
EMT (EMS)
10/10/01

---

Coutsouros, Dean
Firefighter (FDNY)
10/11/01

---

Coyle, John
Fire Marshall (FDNY)
12/28/01

---

Coyne, Ronald
EMT (EMS)
12/28/01

---

Cronick, Kevin
Firefighter (FDNY)
1/18/02

---

Cruthers, Frank
Chief (FDNY)
10/31/01

---

Cruz, Allan
EMT (EMS)
10/11/01

---

Culley, John Kevin
Captain (FDNY)
10/17/01
Was going to work area on 23rd floor at 7 World Trade Center on 9/11

---

Cunniffe, Sean
EMT (EMS)
10/26/01

---

Curran, James
Firefighter (FDNY)
12/30/01

---

Curran, Paul
Fire Patrolman (FDNY)
12/18/01

---

D'amato, Frank
Captain (EMS)
10/11/01

---

D'angelo, Michael
EMT (EMS)
10/24/01

---

Darnowski, Kevin
Paramedic (EMS)
11/9/01

---

David, Roy
Lieutenant (EMS)
10/12/01

---

Davila, Rene
Lieutenant (EMS)
10/12/01

---

Davis, Edward
Firefighter (FDNY)
12/4/01

---

Davis, Kenneth
Paramedic (EMS)
1/15/02

---

Delendick, Father John
Firefighter (FDNY)
12/4/01

---

Delgado, Manuel
Paramedic (EMS)
10/2/01

---

DeMaio, Anthony
Civilian (EMS)
1/28/02

---

Demarco, Diane
EMT (EMS)
12/14/01

---

Derubbio, Dominick
Battalion Chief (FDNY)
10/12/01

---

Desena, Lisa
Paramedic (EMS)
10/16/01

---

Deshore, Karin
Captain (EMS)
11/7/01

---

Desimone, George
Lieutenant (FDNY)
10/22/01

---

Diaz, Moussa
EMT (EMS)
1/17/02

---

Diaz, Jr., Roland
EMT (EMS)
10/22/01

---

Dinh, Trinh
EMT (EMS)
10/31/01

---

Dipaolo, Paul
Firefighter (FDNY)
12/26/01

---

Dixon, Brian
Battalion Chief (FDNY)
10/25/01

---

Donato, Thomas
Firefighter (FDNY)
1/17/02

---

Donovan, Michael
Captain (FDNY)
11/9/01

---

Dorritie, Robert
Lieutenant (FDNY)
12/11/01

---

Drumm, John
Firefighter (FDNY)
1/10/02

---

Drury, James
Assistant Commissioner (FDNY)
10/16/01

---

Duffy, James
Firefighter (FDNY)
1/14/02

---

Duggan, Kevin
Firefighter (FDNY)
12/14/01

---

Dunne, Craig
Firefighter (FDNY)
1/22/02

---

Ellis, Stephen
Firefighter (FDNY)
12/7/01

---

Erdy, Richard
EMT-D. (EMS)
10/10/01

---

Escoffery, Kenneth
Firefighter (FDNY)
1/16/02

---

Faccilonga, Keith
Firefighter (FDNY)
12/4/01

---

Fallucca, Peter
Firefighter (FDNY)
12/26/01

---

Farrington, Francis
Lieutenant (FDNY)
12/12/01

---

Felice, Michael
Civilian (EMS)
1/28/02

---

Felidi, John
EMT (EMS)
11/9/01

---

Felitti, Pasquale
EMT (EMS)
10/11/01

---

Fellini, Frank
Chief (FDNY)
12/3/01

---

Felton, Jarjean
EMT (EMS)
10/10/01

---

Fenton, David
Captain (EMS)
12/18/01

---

Fenyo, Christopher
Firefighter (FDNY)
12/11/01

---

Ferrell, Nicole
EMT (EMS)
12/13/01

---

Ferretti, Douglas
Firefighter (FDNY)
1/24/02

---

Ferriolo, Steve
Firefighter (FDNY)
12/12/01

---

Fiorentino, Vincent
Firefighter (FDNY)
10/12/01

---

Fischer, Dennis
Firefighter (FDNY)
12/28/01

---

Fitzpatrick, Brian
Firefighter (FDNY)
12/6/01

---

Fitzpatrick, Thomas
Deputy Commissioner for Administration (FDNY)
10/1/01

---

Fody, James
Captain (FDNY)
12/26/01

---

Fortis, Joseph
EMT (EMS)
11/9/01

---

Fraser, Charles
Lieutenant (EMS)
10/16/01

---

Fredrickson, Todd
Firefighter (FDNY)
12/28/01

---

Gaby, Thomas
Firefighter (FDNY)
10/23/01

---

Gaffney, Charles
Firefighter (FDNY)
12/10/01

---

Galasso, Joseph
Firefighter (FDNY)
12/12/01

---

Galvin, Thomas
Deputy Chief (FDNY)
11/7/01

---

Ganassa, Edward
Firefighter (FDNY)
12/17/01

---

Garcia, Marshal Louis
Chief Fire Marshall (FDNY)
10/2/01

---

Gates, Gary
Lieutenant (FDNY)
10/12/01

---

Gattas, Immaculada
EMT (EMS)
10/17/01

---

Giaconelli, Louis
Firefighter (FDNY)
12/6/01

---

Giammarino, Peter
Firefighter (FDNY)
1/9/02

---

Goldbach, Ray
Captain (FDNY)
10/24/01

---

Goldfarb, Zachary
Division Chief (EMS)
10/23/01

---

Gombo, Jerry
Assistant Chief (EMS)
10/17/01

---

Gonzalez, Arturo
Paramedic (EMS)
10/23/01

---

Gordon, Brian
EMT (EMS)
10/30/01

---

Gorman, Gerard
Firefighter (FDNY)
1/2/02

---

Gorman, Kevin
Firefighter (FDNY)
1/9/02

---

Grabher, Steve
Chief (FDNY)
12/6/01

---

Grant, Ulysses
Division Commander (EMS)
10/12/01

---

Greene, William
Firefighter (FDNY)
12/26/01

---

Gregory, Stephen
Assistant Commissioner (FDNY)
10/3/01

---

Gribbon, Frank
Deputy Fire Commissioner (FDNY)
10/25/01

---

Grogan, Brian
Supervisor Fire Marshall (FDNY)
10/31/01

---

Gschlecht, Charles
EMT (EMS)
12/12/01

---

Guidetti, Peter
Firefighter (FDNY)
10/12/01

---

Guttenberg, Michael
Doctor (Office of Medical Affairs)
10/2/01

---

Guttman, Charles
Firefighter (FDNY)
12/17/01

---

Hadala, Gregg
Lieutenant (EMS)
10/19/01

---

Hadden, Michael
Lieutenant (FDNY)
12/12/01

---

Hahn, Howard
Lieutenant (EMS)
2/1/02

---

Haines, Fitzroy
Firefighter (FDNY)
1/25/02

---

Hansard, Thomas
Firefighter (FDNY)
10/18/01

---

Hansen, Eric
EMT (EMS)
10/10/01

---

Hansson, Gregg
Lieutenant (FDNY)
10/9/01

---

Harrilal, Mala
EMT (EMS)
11/2/01

---

Harris, Mark
Paramedic (EMS)
10/11/01

---

Harris, Russel
EMT (EMS)
10/9/01

---

Harris, Sam
EMT (EMS)
10/17/01

---

Hayden, Peter
Chief (FDNY)
10/23/01

---

Hayden, Peter
EMT (EMS)
10/25/01

---

Hazel, Michael
Firefighter (FDNY)
12/6/01

---

Heaney, Todd
Firefighter (FDNY)
12/6/01

---

Heavey, Stephen
Fire Marshall (FDNY)
12/28/01

---

Heer, John
EMT (EMS)
1/18/02

---

Henderson, Joseph
EMT (EMS)
10/22/01

---

Henricksen, John
Captain (FDNY)
10/11/01

---

Henry, Edward
Battalion Chief (FDNY)
12/19/01

---

Hess, Stephen
EMT (EMS)
10/11/01

---

Hill, Howard
Deputy Chief (FDNY)
12/10/01

---

Hirsch, Barrett
Paramedic (EMS)
12/17/01

---

Hirth, Randall
Division Chief (EMS)
10/24/01

---

Holowach, Scott
Firefighter (FDNY)
10/18/01

---

Holzman, George
Firefighter (FDNY)
1/17/02

---

Hoppey, Timothy
Firefighter (FDNY)
12/4/01

---

Horel, William
Firefighter (FDNY)
12/7/01

---

Howe, Kevin
Firefighter (FDNY)
1/17/02

---

Humphrey, Robert
Firefighter (FDNY)
12/13/01

---

Hyland, Paul
Firefighter (FDNY)
12/20/01

---

Ingram, Robert
Battalion Chief (FDNY)
12/7/01

---

Ippolito, James
Firefighter (FDNY)
12/13/01

---

Jackson, Curtis
EMT (EMS)
10/30/01

---

Jacobs, Veronica
EMT (EMS)
10/30/01

---

Jagoda, John
EMT (EMS)
10/12/01

---

Jaronczyk, Christopher
Firefighter (FDNY)
12/13/01

---

Jefferson, Joseph
Paramedic (EMS)
1/16/02

---

Jezycki, Stephen
Lieutenant (FDNY)
10/11/01

---

Johnson, Tyrone
Firefighter (FDNY)
1/11/02

---

Johnson, William
Firefighter (FDNY)
12/6/01

---

Julian, Timothy
Firefighter (FDNY)
12/26/01

---

Kagenaar, Chris
EMT-D. (EMS)
10/9/01

---

Katz, Jason
EMT (EMS)
12/20/01

---

Kelleher, Kevin
Paramedic (EMS)
10/10/01

---

Kelly, Kerry
Chief Medical Officer (FDNY)
11/15/01

---

Kelnhofer, David
Firefighter (FDNY)
12/10/01

---

Kelty Jr., Eugene
Firefighter (FDNY)
12/6/01

---

Kennedy, Edward
Firefighter (FDNY)
1/17/02

---

Kimball, Robert
EMT (EMS)
12/20/01

---

King, Stephen
Battalion Chief (FDNY)
11/21/01

---

Klee, Steven
Firefighter (FDNY)
12/10/01

---

Kowalczyk, Walter
Chief (EMS)
10/16/01
Ranking EMS officer responsible for EMS activities on 9/11

---

Kozlowski, George
Firefighter (FDNY)
12/10/01

---

Lakiotes, Art
Chief (FDNY)
12/3/01

---

Lamanna, Karen
Paramedic (EMS)
1/23/02

---

Larocco, Robert
Lieutenant (FDNY)
10/12/01

---

Lim, Justin
EMT (EMS)
10/10/01

---

Lizzul, Lance
Firefighter (FDNY)
12/10/01

---

Long, Kirk
Firefighter (FDNY)
1/28/02

---

Long, Matthew
Firefighter (FDNY)
10/9/01

---

Longo, Valerie
EMT (EMS)
10/11/01

---

Loper, David
Captain (FDNY)
12/13/01

---

Loutsky, Alexander
EMT (EMS)
10/24/01

---

Lowney, Joseph
Lieutenant (FDNY)
1/17/02

---

Lowrey, Brendan
Firefighter (FDNY)
1/9/02

---

Luongo, John
Captain (FDNY)
1/17/02

---

Lynch, Daniel
Firefighter (FDNY)
10/31/01

---

Lynn, John D.
Fire Marshall (FDNY)
12/27/01

---

Lynn, Thomas
Firefighter (FDNY)
12/26/01

---

Macchia, Frank
Firefighter (FDNY)
12/11/01

---

Macko, Michael
Firefighter (FDNY)
10/20/05

---

Maggiore, Dominick
Lieutenant (EMS)
10/19/01

---

Mallery, Paul
Captain (FDNY)
12/12/01

---

Malley, John
Firefighter (FDNY)
12/12/01

---

Mancuso, Anthony
Firefighter Lieutenant (FDNY)
12/7/01

---

Mann, Bradley
Lieutenant (EMS)
11/7/01

---

Marmion, Timothy
Firefighter (FDNY)
12/28/01

---

Marquez, Feliz
Paramedic (EMS)
10/10/01

---

Marquez, Vincent
EMT (EMS)
10/22/01

---

Merrero, Fermin
EMT (EMS)
10/22/01

---

Marrero, Julio
EMT (EMS)
10/25/01

---

Marroncelli, Camille
Paramedic (EMS)
1/24/02

---

Marsilla, Fred
Firefighter (FDNY)
12/27/01

---

Martin, James
Division Chief (EMS)
10/22/01

---

Martin, Kevin
Firefighter (FDNY)
12/5/01

---

Martin, Patrick
Firefighter (FDNY)
1/28/02

---

Martinez, Edward
EMT (EMS)
1/24/02

---

Martinez, Orlando
EMT (EMS)
11/1/01

---

Massa, Richard
Firefighter (FDNY)
12/7/01

---

Massa, Vincent
Firefighter (FDNY)
12/4/01

---

Mazur, Mark
EMT (EMS)
10/19/01

---

McArdle-Schulman, Maureen
Firefighter (FDNY)
10/17/01

---

McCabe, Kevin
Firefighter (FDNY)
12/13/01

---

McCahey, Rich
Assistant Chief Fire Marshal (FDNY)
11/2/01

---

McCarthy, Thomas
Chief (FDNY)
10/11/01

---

McCorvey, Dulce
EMT (EMS)
10/3/01

---

McCurry, Richard
Fire Marshall (FDNY)
12/18/01

---

McDonald, Thomas
Assistant Commissioner (FDNY)
10/24/01

---

McGimpsey, Jason
Firefighter (FDNY)
1/18/02

---

McGlynn, James
Lieutenant (FDNY)
1/2/02

---

McGovern, Kevin
Firefighter (FDNY)
12/11/01

---

McKinley, James
EMT (EMS)
10/12/01

---

McLaughlin, William
Captain (FDNY)
12/17/01

---

McLeon, Kevin
EMT (EMS)
12/15/01

---

McMillan, Mary
EMT (EMS)
10/12/01

---

McNally, Patrick
Deputy Chief (FDNY)
11/8/01

---

McNeur-Mccarthy, Linda
EMT (EMS)
11/28/01

---

Mecner, Edward
Firefighter (FDNY)
12/26/01

---

Medjuck, Bruce
Lieutenant (EMS)
10/15/01

---

Mejias, Michael
EMT (EMS)
10/24/01

---

Melarango, William
Lieutenant (EMS)
10/11/01

---

Mendez, John
Lieutenant (FDNY)
10/31/01

---

Meola, Joseph
Firefighter (FDNY)
12/11/01

---

Mera, Wayne
Lieutenant (FDNY)
12/12/01

---

Merced, Mery
EMT (EMS)
10/23/01

---

Mettham, Hugh
Firefighter (FDNY)
1/10/02

---

Metzger, Peter
Firefighter (FDNY)
1/8/02

---

Meyers, Arthur
Firefighter (FDNY)
10/11/01

---

Meyers, Harold
Deputy Chief (FDNY)
12/21/01

---

Monachelli, Lawrence
Lieutenant (FDNY)
12/5/01

---

Monahan, Craig
Firefighter (FDNY)
10/9/01

---

Monchery, Alwish
EMT (EMS)
10/22/01

---

Monroe, Amy
Lieutenant (EMS)
10/17/01

---

Moore, Roger
Lieutenant (EMS)
11/29/01

---

Morabito, Michael
Firefighter (FDNY)
1/15/02

---

Moriarty, Edward
Battalion Chief (FDNY)
12/19/01

---

Moriarty , David
Firefighter (FDNY)
12/4/01

---

Moribito, John
Firefighter (FDNY)
12/12/01

---

Moritz, John
EMT (EMS)
10/25/01

---

Mosiello, Steven
Fire Marshall (FDNY)
10/23/01

---

Muhammad, Farooq
EMT (EMS)
11/1/01

---

Mulqueen, Tracey
Paramedic (EMS)
10/4/01

---

Murad, Murray
Lieutenant (EMS)
10/4/01

---

Murphy, James
Paramedic (EMS)
10/3/01

---

Murphy, James
Firefighter (FDNY)
12/12/01

---

Murphy, Keith
(FDNY)
12/5/01

---

Murray, Christopher Patrick
Firefighter (FDNY)
12/12/01

---

Murray, John
Fire Marshall (FDNY)
12/28/01

---

Murray, Kevin
Firefighter (FDNY)
10/9/01

---

Muschello, Dominick
Firefighter (FDNY)
12/6/01

---

Nacional, Naomi
EMT (EMS)
1/23/02

---

Nahmod, Abdo
Captain (EMS)
10/11/01

---

Nash, Francis
Firefighter (FDNY)
12/11/01

---

Neligan, Dean
Firefighter (FDNY)
12/11/01

---

Nevins, John
Lieutenant (EMS)
10/17/01

---

Nigro, Daniel
Chief of Department (FDNY)
10/24/01
Was chief of operations on 9/11

---

Nolan, Frank
Lieutenant (FDNY)
1/23/02

---

Norris, Robert
Firefighter (FDNY)
12/27/01

---

Ober, Michael
EMT (EMS)
10/16/01

---

O'Carroll, Renae
EMT (EMS)
10/18/01

---

O'Donnel, Soraya
EMT (EMS)
10/10/01

---

O'Flaherty, Brian
Battalion Chief (FDNY)
1/9/02

---

Olszewski, Janice
Captain (EMS)
11/7/01

---

O'Malley, Sean
Lieutenant (FDNY)
12/6/01

---

Ondrovic, Patricia
EMT (EMS)
10/11/01

---

Orlando, Thomas
Firefighter (FDNY)
1/18/02

---

Ottrando, John
Firefighter (FDNY)
12/14/01

---

Owens, Troy
Firefighter (FDNY)
12/5/01

---

Palmieri, Vincent
Firefighter (FDNY)
12/6/01

---

Palone, Michael
Firefighter (FDNY)
12/12/01

---

Parris, Sidney
Firefighter (FDNY)
12/14/01

---

Pascale, Fran
Division Commander (EMS)
10/17/01

---

Pastor, Frank
EMT-D. (EMS)
10/23/01

---

Patriciello, Joseph
Lieutenant (FDNY)
12/20/01

---

Penn, Lonnie
EMT (EMS)
11/9/01

---

Perez, Emilio
EMT (EMS)
10/31/01

---

Perez, Jose
EMT (EMS)
10/23/01

---

Perrugia, John
Chief (EMS)
10/25/01

---

Petrassi, Joseph
Firefighter (FDNY)
1/13/02

---

Pfeifer, Joseph
Battalion Chief (FDNY)
10/23/01
Saw first plane hit WTC

---

Piambino, Thomas
Lieutenant (FDNY)
1/24/02

---

Picarello, John
Firefighter (FDNY)
12/6/01

---

Piccerill, Steve
Firefighter (FDNY)
12/12/01

---

Picciotto, Richard
Battalion Chief (FDNY)
11/27/01

---

Pierce, Joel
Paramedic (EMS)
1/23/02

---

Pilla, Steven
Paramedic (EMS)
10/17/01

---

Pinkus, Jace
Captain (EMS)
10/11/01

---

Pisano, Gerard
Firefighter (FDNY)
12/27/01

---

Plover, Vincent
Firefighter (FDNY)
12/26/01

---

Powers, James
Firefighter (FDNY)
12/11/01

---

Prezant, Dr. David
Deputy Chief Medical officer (FDNY)
11/27/01

---

Puma, Frank
EMT (EMS)
12/12/01

---

Quick, William
Firefighter (FDNY)
11/1/01

---

Quinn, Kevin
Firefighter (FDNY)
12/13/01

---

Quinn, Paul
Firefighter (FDNY)
1/8/02

---

Rae, Joseph
Firefighter (FDNY)
12/10/01

---

Ramos, Ralph
EMT-D. (EMS)
12/12/01

---

Rattazzi, Rich
Firefighter (FDNY)
1/13/02

---

Raynis, Stephen
Battalion Chief (FDNY)
12/21/01

---

Regan, Michael
Firefighter (FDNY)
12/28/01

---

Reilly, Gerard
Lieutenant (FDNY)
1/9/02

---

Reno, Armondo
Firefighter (FDNY)
1/13/02

---

Reynolds, William
Firefighter (FDNY)
12/11/01

---

Riccio, Arthur
Firefighter (FDNY)
12/10/01

---

Richiusa, Patrick
EMT (EMS)
12/13/01

---

Rignola, Salvatore
Fire Marshall (FDNY)
11/7/01

---

Rios, Juan
EMT (EMS)
10/10/01

---

Ritorto, Chad
EMT (EMS)
10/16/01

---

Rivera, Angel
Firefighter (FDNY)
1/22/02

---

Rivera, Daniel
Paramedic (EMS)
10/10/01

---

Rivera, Joseph
Captain (EMS)
1/14/02

---

Rivera, Terence
Firefighter (FDNY)
12/13/01

---

Rodriguez, Eric
Paramedic (EMS)
10/16/01

---

Rodriguez, George
Firefighter (FDNY)
12/12/01

---

Rodriguez, Melvin
EMT (EMS)
1/22/02

---

Rodriguez, Ricardo
Firefighter (FDNY)
12/29/01

---

Rogers, Kenneth
Firefighter (FDNY)
12/10/01

---

Rogers, Steven
Firefighter (FDNY)
1/9/02

---

Rohan, Glenn
Lieutenant (FDNY)
12/28/01

---

Rosie, Peter
EMT (EMS)
1/22/02

---

Rothmund, John
EMT (EMS)
10/18/01

---

Ruiz, Robert
Paramedic (EMS)
12/14/01

---

Ruppert, Mark
Firefighter (FDNY)
12/4/01

---

Russo, Brian
Firefighter (FDNY)
1/13/02

---

Ryan, William
Lieutenant (FDNY)
10/18/01

---

Rybak, Stanley
Lieutenant (FDNY)
12/7/01

---

Salerno, Anthony
Firefighter (FDNY)
12/10/01

---

Salvador, Robert
Firefighter (FDNY)
1/18/02

---

Sanchez, Luis
EMT (EMS)
10/22/01

---

Sandvik, David
Firefighter (FDNY)
12/20/01

---

Sangeniti, Salvador
EMT (EMS)
10/16/01

---

Saracelli, Richard
Lieutenant (FDNY)
10/10/01

---

Saulle, Richard
Firefighter (FDNY)
12/6/01

---

Scaringello, Patrick
Lieutenant (EMS)
10/10/01

---

Schroeck, Michael
Firefighter (FDNY)
10/11/01
In house watch and saw the first plane hit on 9/11

---

Scott, Dwight
EMT (EMS)
12/14/01

---

Scott, Howie
Firefighter (FDNY)
12/17/01

---

Sheehey, Edward
Firefighter (FDNY)
12/4/01

---

Short, Robert
EMT (EMS)
10/16/01

---

Sickles, Howard
Captain (EMS)
11/2/01

---

Siebuhr, Laura
EMT (EMS)
11/2/01

---

Simon, William
Paramedic (EMS)
10/18/01

---

Singer, Albert
Paramedic (EMS)
12/12/01

---

Siragusa, Robert
Firefighter (FDNY)
1/8/02

---

Skellington, Richard
Lieutenant (FDNY)
12/11/01

---

Smiley, Gary
Paramedic (EMS)
10/10/01

---

Smiouskas, Richard
Lieutenant (FDNY)
11/27/01

---

Smith, Adolph
EMT (EMS)
10/12/01

---

Smith, Briam
EMT (EMS)
10/23/01

---

Smith, Thomas
Firefighter (FDNY)
12/6/01

---

Smith, Warren
Lieutenant (FDNY)
12/04/01

---

Snow, John
Firefighter (FDNY)
1/13/02

---

Sohmer, Robert
Captain (FDNY)
1/17/02

---

Spinard, Thomas
Firefighter (FDNY)
1/11/02

---

Springstead, Bertram
Firefighter (FDNY)
12/4/01

---

Steffens, Mark
Division Chief (EMS)
10/3/01

---

Stein, Michael
Captain (FDNY)
12/5/01

---

Sterling, Daniel
Firefighter (FDNY)
12/6/01

---

Stone, Mark
Captain (EMS)
10/12/01

---

Stroebel, Russ
Lieutenant (FDNY)
1/25/02

---

Suarez, Edgard
EMT (EMS)
11/2/01

---

Suden, Gerald
Firefighter (FDNY)
10/9/01

---

Sudnik, John
Battalion Chief (FDNY)
11/7/01

---

Sullivan, Joseph
Firefighter (FDNY)
12/11/01

---

Sullivan, Patrick
Firefighter (FDNY)
12/5/01

---

Sweeney, Frank
Firefighter (FDNY)
10/18/01

---

Sweeting, Neil
Paramedic (EMS)
10/17/01

---

Swithers, Jay
Captain (EMS)
10/30/01

---

Terranova, Rosario
Lieutenant (EMS)
10/26/01

---

Tierney, Lynn
Deputy Commissioner (FDNY)
10/29/01

---

Timothy, David
EMT (EMS)
10/25/01

---

Torre, Felipe
EMT (EMS)
10/9/01

---

Torres, Norberto
EMT (EMS)
10/23/01

---

Traverso, John
Field Commander (FDNY)
10/12/01

---

Trojanowski, Stanley
Firefighter (FDNY)
12/10/01

---

Truoccolo, William
EMT (EMS)
1/16/02

---

Turi, Albert
Deputy Assistant Chief (FDNY)
10/23/01

---

Turilli, Thomas
Firefighter (FDNY)
1/17/02

---

Vallebuona, Tom
Battalion Chief (FDNY)
1/1/02

---

Van Name, William
Firefighter (FDNY)
12/11/01

---

Varriale, Anthony
Captain (FDNY)
12/12/01

---

Vaskis, Frank
Firefighter (FDNY)
12/17/01

---

Vasquez, Paul
Firefighter (FDNY)
12/27/01

---

Vega, Evelyn
EMT (EMS)
12/18/01

---

Velazquez, Nelson
Lieutenant (EMS)
1/23/02

---

Vetland, Richard
Firefighter (FDNY)
10/12/01

---

Viola, Stephen
Firefighter (FDNY)
1/10/02

---

Vitiello, David
Firefighter (FDNY)
12/13/01

---

Walker, Dan
Firefighter First Grade (FDNY)
12/12/01

---

Wall, William
Lieutenant (FDNY)
12/10/01

---

Wallace, James
Firefighter (FDNY)
12/29/01

---

Walsh, Adrienne
Firefighter (FDNY)
12/17/01

---

Walsh, James
Lieutenant (FDNY)
1/16/02

---

Walsh, William
Lieutenant (FDNY)
1/11/02

---

Wansley, John
Firefighter (FDNY)
12/29/01

---

Warner, Jeffery
EMT (EMS)
11/2/01

---

Weber, John
Firefighter (FDNY)
12/20/01

---

Weindler, Rudy
Lieutenant (FDNY)
1/15/02

---

Weldon, Richard
Captain (FDNY)
12/10/01

---

Wells, Charles
Division Chief (EMS)
10/25/01

---

Wernick, Michael
Firefighter (FDNY)
10/12/01

---

Wesseldine, Mark
Firefighter (FDNY)
12/29/01

---

Wheeler, William
Firefighter (FDNY)
12/7/01

---

Whelan, Brendan
Lieutenant (FDNY)
12/17/01

---

Whitman, Daniel
EMT (EMS)
10/10/01

---

Williams, Daniel
Lieutenant (FDNY)
12/10/01

---

Williams, Vandon
Firefighter (FDNY)
12/11/01

---

Wilson, John
Firefighter (FDNY)
12/20/01

---

Wilson, Randall
Fire Marshall (FDNY)
12/20/01

---

Wilson-Debriano, Chevalo
Paramedic (EMS)
1/11/02

---

Winkler, John
Firefighter (FDNY)
12/5/01

---

Wood, Gary
Lieutenant (FDNY)
12/4/01

---

Wright, Decosta
EMT (EMS)
10/11/01

---

Wright, Steven
Firefighter (FDNY)
12/10/01

---

Yakimovich, James
Captain (FDNY)
12/4/01

---

Yarembinsky, Michael
Firefighter (FDNY)
1/14/02

---

Yioras, Spiro
Lieutenant (EMS)
12/28/01

---

Zanat, John
Lieutenant (FDNY)
10/10/01

---

Zarillo, Richard
EMT (EMS)
10/25/01

---

Zarr, Kathy
Paramedic (EMS)
11/27/01

---

Zasa, Stephen
Firefighter (FDNY)
1/1/02

---

Zechewytz, Mike
Firefighter (FDNY)
12/5/01

---