---
Using 911facts.dk
How do you get the most out of this site?
---
Truth Movement
---
Publications
---
Booking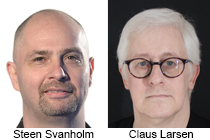 We are available for booking a lecture or a workshop
here
.
---
Facebook

---
On September 11, 2001 at 5.20 PM 7 World Trade Center, Building 7, collapsed as a result of many hours of uncontrolled fire, which made the building"s steel structure succumb. The fire started as a result of damage from debris from the previously collapsed 1 World Trade Center.
No one died because evacuation of the building had already commenced when 1 World Trade Center was hit by a plane.
Select photos
Collapse, camera 1
The collapse of 7 World Trade Center.
7 WTC Collapse ABC Clip 01
7 WTC Collapse ABC Clip 02
7 WTC Collapse ABC Clip 03
7 WTC Collapse BBC Clip 01
7 WTC Collapse CBS Clip 01
7 WTC Collapse CBS Clip 02
7 WTC Collapse CBS Clip 03
7 WTC Collapse FOX Clip 01
7 WTC Collapse HIS Clip 01
7 WTC Collapse HIS Clip 02
7 WTC Collapse NBC Clip 01
7 WTC Collapse NY1 Clip 01
7 WTC Collapse Unknown Clip 01
7 WTC Collapse Unknown Clip 02
7 WTC Collapse Unknown Clip 03
7 WTC Collapse Unknown Clip 04
7 WTC Collapse Unknown Clip 06
7 WTC Collapse Unknown Clip 07
7 WTC Collapse Unknown Clip 08
7 WTC Collapse Unknown Clip 09
7 WTC Collapse Unknown Clip 10
7 WTC Collapse Unknown Clip 11
7 WTC Collapse Unknown Clip 12