---
Using 911facts.dk
How do you get the most out of this site?
---
Truth Movement
---
Publications
---
Booking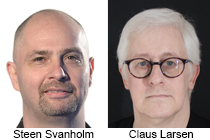 We are available for booking a lecture or a workshop
here
.
---
Facebook

---
The 911Dataset Project
More than 3 TB of raw data has been released by various U.S. government agencies.

The files were originally stored on 911datasets.org as torrents. If you require a file, please contact us here.
| Torrent | Page | File Count | Size |
| --- | --- | --- | --- |
| [1] | 1,156 High Resolution 9-11-2001 Images – Released Mar 16 2007 | 1,156 | 1,072MB (1GB) |
| [2] | 119 High Quality WTC Site Photos – Released Mar 25 2007 | 119 | 43MB (0GB) |
| [3] | 2,278 Electronic Records of The WTC Collapse Investigation | 2,278 | 26,701MB (26GB) |
| [4] | 9/11 Pager Intercepts | 1 | 48MB (0GB) |
| [5] | ACS 919 Urban Aerosols and Their Impacts 2006 | 195 | 187MB (0GB) |
| [6] | CIA documents provided to the 9/11 Commission – Released Jun 19 2012 | 122 | 37MB (0GB) |
| [7] | FAA RADES NORAD FOIA Data | 1,677 | 48,752MB (48GB) |
| [8] | FBI 9-11 Vault Downloaded Apr 03 2011 | 72 | 97MB (0GB) |
| [9] | FEMA Photographer Kurt Sonnenfeld – Ground Zero Photos – Released Aug 8 2009 | 552 | 684MB (1GB) |
| [10] | NARA 9-11 Commission Records – Released Jan 14 2009 | 7,982 | 3,727MB (4GB) |
| [11] | NARA 9-11 Commission Records – Scanned Jan 2012 | 96 | 50MB (0GB) |
| [12] | NARA 9-11 Commission Records – Scanned Mar 11 2011 | 227 | 156MB (0GB) |
| [13] | NARA 9-11 Commission Records MFR Released Apr 2011 | 52 | 159MB (0GB) |
| [14] | NARA 9-11 Commission Records MFR Released Sep 2011 | 182 | 60MB (0GB) |
| [15] | NARA 9-11 Commission Records RG148 Audio Monograph | 720 | 2,938MB (3GB) |
| [16] | NARA FOIA 36411 FAA RECORDS Aug 19 2011 | 8,423 | 637,615MB (623GB) |
| [17] | NARA FOIA 36411 FAA RECORDS Aug 19 2011 – mp3 Compressed | 8,423 | 72,763MB (71GB) |
| [18] | NIST Building Fire Research Laboratory Public FTP Archive | 299 | 1,004MB (1GB) |
| [19] | NIST FOIA 09-42 – ic911studies.org – Release 01 | 191 | 17MB (0GB) |
| [20] | NIST FOIA 09-42 – ic911studies.org – Release 02 | 187 | 664MB (1GB) |
| [21] | NIST FOIA 09-42 – ic911studies.org – Release 03 | 196 | 42MB (0GB) |
| [22] | NIST FOIA 09-42 – ic911studies.org – Release 04 | 495 | 11,092MB (11GB) |
| [23] | NIST FOIA 09-42 – ic911studies.org – Release 05 | 226 | 1,699MB (2GB) |
| [24] | NIST FOIA 09-42 – ic911studies.org – Release 06 | 112 | 34MB (0GB) |
| [25] | NIST FOIA 09-42 – ic911studies.org – Release 07 | 1,040 | 2,125MB (2GB) |
| [26] | NIST FOIA 09-42 – ic911studies.org – Release 08 | 843 | 8,538MB (8GB) |
| [27] | NIST FOIA 09-42 – ic911studies.org – Release 09 | 28,812 | 40,405MB (39GB) |
| [28] | NIST FOIA 09-42 – ic911studies.org – Release 10 | 75 | 65,581MB (64GB) |
| [29] | NIST FOIA 09-42 – ic911studies.org – Release 11 | 514 | 4,134MB (4GB) |
| [30] | NIST FOIA 09-42 – ic911studies.org – Release 12 | 161 | 73MB (0GB) |
| [31] | NIST FOIA 09-42 – ic911studies.org – Release 13 | 873 | 1,003MB (1GB) |
| [32] | NIST FOIA 09-42 – ic911studies.org – Release 14 | 6,768 | 964,524MB (942GB) |
| [33] | NIST FOIA 09-42 – ic911studies.org – Release 14 – x.264 Compressed | 6,768 | 86,008MB (84GB) |
| [34] | NIST FOIA 09-42 – ic911studies.org – Release 15 | 1,309 | 40,464MB (40GB) |
| [35] | NIST FOIA 09-42 – ic911studies.org – Release 16 | 833 | 850MB (1GB) |
| [36] | NIST FOIA 09-42 – ic911studies.org – Release 17 | 698 | 253MB (0GB) |
| [37] | NIST FOIA 09-42 – ic911studies.org – Release 18 | 1,857 | 2,577MB (3GB) |
| [38] | NIST FOIA 09-42 – ic911studies.org – Release 19 | 192 | 12,705MB (12GB) |
| [39] | NIST FOIA 09-42 – ic911studies.org – Release 20 | 68 | 4,981MB (5GB) |
| [40] | NIST FOIA 09-42 – ic911studies.org – Release 21 | 3,274 | 6,684MB (7GB) |
| [41] | NIST FOIA 09-42 – ic911studies.org – Release 22 | 1,318 | 1,689MB (2GB) |
| [42] | NIST FOIA 09-42 – ic911studies.org – Release 23 | 2,151 | 542MB (1GB) |
| [43] | NIST FOIA 09-42 – ic911studies.org – Release 24 | 17 | 7MB (0GB) |
| [44] | NIST FOIA 09-42 – ic911studies.org – Release 25 | 527 | 195,351MB (191GB) |
| [45] | NIST FOIA 09-42 – ic911studies.org – Release 26 | 59 | 6,968MB (7GB) |
| [46] | NIST FOIA 09-42 – ic911studies.org – Release 27 | 1,229 | 438,378MB (428GB) |
| [47] | NIST FOIA 09-42 – ic911studies.org – Release 28 | 1,087 | 97,830MB (96GB) |
| [48] | NIST FOIA 09-42 – ic911studies.org – Release 29 | 1,584 | 30,199MB (29GB) |
| [49] | NIST FOIA 09-42 – ic911studies.org – Release 30 | 62 | 16,297MB (16GB) |
| [50] | NIST FOIA 09-42 – ic911studies.org – Release 31 | 7,408 | 539MB (1GB) |
| [51] | NIST FOIA 09-42 – ic911studies.org – Release 32 | 58,466 | 19,889MB (19GB) |
| [52] | NIST FOIA 09-42 – ic911studies.org – Release 33 | 1,786 | 4,860MB (5GB) |
| [53] | NIST FOIA 09-42 – ic911studies.org – Release 34 | 949 | 68,607MB (67GB) |
| [54] | NIST FOIA 09-42 – ic911studies.org – Release 35 | 400 | 90MB (0GB) |
| [55] | NIST FOIA 09-42 – ic911studies.org – Release 36 | 3,622 | 10,862MB (11GB) |
| [56] | NIST FOIA 09-42 – ic911studies.org – Release 37 | 2,674 | 9,593MB (9GB) |
| [57] | NIST FOIA 09-42 – ic911studies.org – Release 38 | 309 | 9,653MB (9GB) |
| [58] | NIST FOIA 09-42 – ic911studies.org – Release 39 | 542 | 5,250MB (5GB) |
| [59] | NIST FOIA 09-42 – ic911studies.org – Release 40 | 338 | 225MB (0GB) |
| [60] | NIST FOIA 09-42 – ic911studies.org – Release 41 | 933 | 1,431MB (1GB) |
| [61] | NIST FOIA 09-42 – ic911studies.org – Release 42 | 73 | 11,073MB (11GB) |
| [62] | NIST FOIA 10-202 Nov 04 2010 | 6,840 | 18,886MB (18GB) |
| [63] | NIST FOIA 12-014 7 8 Interim Responses Released Apr 03 2012 | 2,542 | 2,191MB (2GB) |
| [64] | NIST FOIA 12-057 Feb 07 2012 | 2,536 | 58,498MB (57GB) |
| [65] | NIST WTC7 FOIA 09-49 | 20 | 31MB (0GB) |
| [66] | NIST WTC7 FOIA 11-209 | 42 | 126MB (0GB) |
| [67] | NIST WTC7 FOIA 12-009 | 2,588 | 958MB (1GB) |
| [68] | NISTreview.org FOIA Photographs of WTC Site | 381 | 58MB (0GB) |
| [69] | NORAD-USNORTHCOM 9/11 Tapes | 22 | 3,523MB (3GB) |
| [70] | NTSB FOIA Appeal 2012-00001-A Nov 10 2011 | 163 | 3,898MB (4GB) |
| [71] | NYC OEM MAPS FOIL Nov 17 2010 | 297 | 708MB (1GB) |
| [72] | NYCLAW FOIL WTC Victim Parts Maps Mar 03 2011 | 6 | 2MB (0GB) |
| [73] | Operation Vulgar Betrayal FBI FOIPA 1160517-000 Nov 30 2012 | 10 | 26MB (0GB) |
| [74] | PANYNJ WTC FOIL 12114 Feb 16 2011 | 1 | 5MB (0GB) |
| [75] | PENTAGON FBI FOIPA 1141552 | 40 | 3,289MB (3GB) |
| [76] | RDOD NEADS AUDIO | 42,220 | 8,906MB (9GB) |
| [77] | USSTRATCOM FOIA 11-023 Sept-11-2001 Global Guardian | 13 | 67MB (0GB) |
| [78] | WTC Architectural Drawings Dated 07-31-67 | 175 | 123MB (0GB) |
| [79] | WTC Architectural Master Plan Released 2005 | 14 | 18MB (0GB) |
| [80] | WTC Disaster Site Images – Released Aug 28 2009 | 935 | 110MB (0GB) |
| [81] | WTC Disaster Site Images – Released Mar 24 2007 | 5,246 | 180MB (0GB) |
| [82] | WTC Disaster Site Images From The Airborne Visible-Infrared Imaging Spectrometer (AVIRIS) | 54 | 5,913MB (6GB) |
| [83] | WTC1 Architectural Drawings Dated May 9 1984 | 284 | 1,168MB (1GB) |
| [84] | WTC1 Architectural and Engineering Drawings Released May 2009 | 901 | 399MB (0GB) |