---
Using 911facts.dk
How do you get the most out of this site?
---
Truth Movement
---
Publications
---
Booking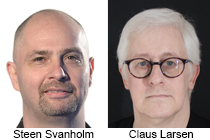 We are available for booking a lecture or a workshop
here
.
---
Facebook

---
Facepalm – the absurdities of the Truth Movement
Conspiracy theorists present their alternative explanations as far better supported than "the official accounts". In reality, the theories are not only lacking in evidence, they are also absurd and often contradict each other. The lecture will also explain the thinking behind these problems and how the Truth Movement handles the absurdities in an Orwellian manner.