---
Using 911facts.dk
How do you get the most out of this site?
---
Truth Movement
---
Publications
---
Booking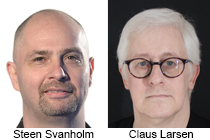 We are available for booking a lecture or a workshop
here
.
---
Facebook

---
The passengers could not make phone calls

Claim
"Under the weight of evidence that cellphone (not airfone) calls were essentially impossible as described by Bush, the White House and the major media on the day in question, we have no alternative but to give serious consideration to the operational possibilities as outlined here."0
Background
The claim stems primarily from A. K. Dewdney, a Canadian writer. He claims that cell phones in 2001 did not work above a certain altitude and that there were so many technical problems using them at lower altitudes that it must be considered impossible that the passengers on the hijacked planes could make calls to their relatives and other people. Dewdney quotes a spokesperson from AT&T, Alexa Graf:
According to AT&T spokesperson Alexa Graf, cellphones are not designed for calls from the high altitudes at which most airliners normally operate. It was, in her opinion, a "fluke" that so many calls reached their destinations.0
Facts
Dewdney leaves out crucial parts of the quote:
Alexa Graf, AT&T spokesperson, said systems are not designed for calls from high altitudes, suggesting it was almost a fluke that the calls reached their destinations. "On land, we have antenna sectors that point in three directions — say north, southwest, and southeast," she explained. "Those signals are radiating across the land, and those signals do go up, too, due to leakage." From high altitudes, the call quality is not very good, and most callers will experience drops. Although calls are not reliable, callers can pick up and hold calls for a little while below a certain altitude, she added. 1
Thus, there is nothing that prevents the passengers from being able to make calls from their cell phones
1, 2
:
The calls were made at sufficiently low altitude.
The calls were generally brief, under one minute.
The hijacked planes flew over areas with adequate coverage.
Logic
It would have taken gigantic preparations to pull off such hoax: False calls had to have been made that sounded as if they came from the planes. The calls would have to be coordinated with the rest of the operation and be made by actors who were able to imitate passengers who had been selected in advance, so that personal information could be collected, in order to avoid raising suspicion with their relatives when the false calls were made. It would have been far easier to drop the whole thing and merely concluded that the conditions did not make it possible for the passengers to use their cell phones and/or claim that the hijackers had confiscated all cell phones.
Conclusion
The claim is therefore:
False
Without witnesses
Undocumented
Sources
"Under the weight of evidence that the cellphone (not airfone) calls were essentially impossible as described by the Bush White House and the major media on the day in question, we have no alternative but to give serious consideration to the operational possibilities, as outlined here."
The Cellphone and Airfone Calls from Flight UA93
, A. K. Dewdney, Physics911.com