---
Using 911facts.dk
How do you get the most out of this site?
---
Truth Movement
---
Publications
---
Booking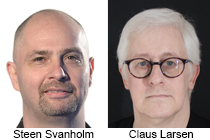 We are available for booking a lecture or a workshop
here
.
---
Facebook

---
Index
Those who believe that the terror attack on September 11, 2001, in reality was planned by a conspiracy within the American government often defend themselves with the phrase "we are only asking questions", thus indicating innocence, healthy skepticism and an excuse from coming up with plausible counter-explanations. However, asking a question without explaining yourself is often in itself an indirect claim, since a question can be subjectively related to the topic and the context in which the question is asked. This is precisely the technique that the conspiracy theorists use.