---
Using 911facts.dk
How do you get the most out of this site?
---
Truth Movement
---
Publications
---
Booking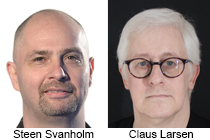 We are available for booking a lecture or a workshop
here
.
---
Facebook

---
Investigation of WTC 7
NIST NCSTAR 1A: Final Report on the Collapse of World Trade Center Building 7

Full report (130 pages).

Download PDF
Download chapters
NIST NCSTAR 1-9: Structural Fire Response and Probable Collapse Sequence of World Trade Center Building 7 (two volumes)
WTC 7 Technical Briefing
Shyam Sunder, NIST, 26.08.2008
ASCE
American Society of Civil Engineers (ASCE).

A peer-reviewed article on the collapse of WTC 7 was published in the Journal of Structural Engineering, Volume 138 Issue 1 – January 2012.

Analysis of Structural Response of WTC 7 to Fire and Sequential Failures Leading to Collapse
Therese McAllister, Ph.D., P.E., M.ASCE; Robert MacNeill; Omer Erbay, Ph.D., P.E., M.ASCE; Andrew Sarawit, Ph.D., P.E., M.ASCE; Mehdi Zarghamee, Ph.D., P.E., F.ASCE; Steven Kirkpatrick, Ph.D.; and John Gross, Ph.D., P.E., F.ASCE
FOIA
The Freedom of Information Act (FOIA) is a law requiring full or partial disclosure of previously unreleased information and documents controlled by the United States government by request.

In order to avoid sensitive data from being wrongfully released, a FOIA request must be presented before a judge.