---
Using 911facts.dk
How do you get the most out of this site?
---
Truth Movement
---
Publications
---
Booking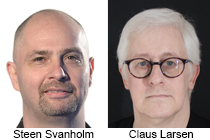 We are available for booking a lecture or a workshop
here
.
---
Facebook

---
Other technical studies
A number of investigations were also carried out, in addition to the in-depth scientific and technical investigations of the terror attacks. This is an ever-growing list of these reports.
American Society of Civil Engineers
Environmental Health Perspectives
A monthly peer-reviewed journal, with research and news, published with the support of The National Institute of Environmental Health Sciences, National Institutes of Health, U.S. Department of Health and Human Services.
Health and Environmental Consequences of the World Trade Center Disaster,
Philip J. Landrigan, Paul J. Lioy, George Thurston, Gertrud Berkowitz, L. C. Chen, Steven N. Chillrud, Stephen H. Gavett, Panos G. Georggopoulos, Alison S. Geyh, Stephen Levin, Frederica Perera, Stephen M. Rappaport, Christopher Small, and the NIEHS World Trade Center Working Group
Environmental Health Perspectives, Vol. 112, No. 6, May 2004

World Trade Center fine particulate matter–chemistry and toxic respiratory effects: an overview.,
Stephen H Gavett

Chemical analysis of World Trade Center fine particulate matter for use in toxicologic assessment,
John K McGee, Lung Chi Chen, Mitchell D Cohen, Glen R Chee, Colette M Prophete, Najwa Haykal-Coates, Shirley J Wasson, Teri L Conner, Daniel L Costa, and Stephen H Gavett
Lawrence Berkeley National Laboratory
Elevated tritium levels at the World Trade Center

Lawrence Berkeley National Laboratory found traces of tritiated water (HTO) at the World Trade Center Ground Zero after the 9/11/01 terrorist attack. All these results are well below the levels of concern to human exposure.
Mailman School of Public Health, Columbia University
World Trade Center Environmental Contaminant Database, (WTCECD)
Tests included:

outdoor air, outdoor bulk dust, indoor air, and indoor dust wipes specifically in response to the disaster by the USEPA and NYSDEC; approximately 200 parameters are present, including particulate matter mass (PM2.5, PM10), volatile organic compounds (VOCs), dioxins, polychlorinated biphenyls (PCBs), metals, and asbestos.
air quality data reported to EPA's Aerometric Information Retrieval System (AIRS) data repository from fixed-site air quality monitoring stations run by local, state and federal environmental agencies from 1970 to December 31, 2004. These include ozone, sulfur dioxide, nitrogen dioxide, carbon monoxide, lead, particulate matter mass (TSP, PM10, PM2.5) plus parameters measured on an irregular basis which include a suite of volatile organic compounds (VOCs), dioxins, polychlorinated biphenyls (PCBs), particle-associated metals, and limited meteorological data.
Massachusetts Institute of Technology (MIT)
Get the full report here PDF (9962KB).
MCEER
MCEER is an American organization, supported by e.g. the National Science Foundation and the Federal Emergency Management Agency (FEMA). MCEER investigates the effects of earthquakes and other catastrophes.

After the terror attacks, MCEER investigated the damaged buildings at Ground Zero, and published several reports.
Merritt & Harris
Merrit & Harris is a construction consultancy company, carrying out various technical investigations of buildings. In 2000, they were given the task of investigating the state of the World Trade Center 1 and 2. The reports were published in December, 2002, and include previous investigations made by other expert companies.
Report 1

Report 2
Mesothelioma Center
Toxic asbestos and other carcinogens were released during the Sept. 11 attacks on the World Trade Center. First responders, survivors and residents exposed to the dust are developing health effects such as respiratory diseases and cancer.

The Mesothelioma Center is a leading mesothelioma advocacy center, offering the largest online mesothelioma support community for patients, caregivers and loved ones.

Research articles
MVA Scientific Consultants
Progress Report on the Analysis of Red/Gray Chips in WTC Dust, Revised Report of Results: MVA9119, James R. Millette

James Millette, MVA Scientific Consultants, has conducted an independent study of dust samples from the World Trade Center, in an effort to replicate the experiments by Harrit et al. Millette concludes that there is no thermitic material in the dust.

Download PDF
National Environmental Health Association
| | |
| --- | --- |
| National Environmental Health Association is an organization working for better work environment. In 2003, they published this report about the health consequences of the impacted areas on Manhattan and in the vicinity of the Pentagon. | |
| | Download PDF |
Occupational Safety and Health Administration
| | |
| --- | --- |
| The mission of the Occupational Safety and Health Administration is to assure safe and healthy working conditions for working men and women. In 2003, the administration published this report about the possible dangers for the rescue teams during the impacted areas on Manhattan. | |
| | Download PDF |
R.J. Lee Group / Deutsche Bank
Damage Assessment

130 Liberty Street Property
Report Date: December 2003
WTC Dust Signature Report
Composition and Morphology

Environmental study of dust from 130 Liberty Street, a.k.a. "Deutsche Bank" and "Bankers Trust Plaza". The building was situated South of the World Trade Center 2.

Download PDF
---
Signature Assessment

130 Liberty Street Property
Report Date: May 2004
Expert Report
WTC Dust Signature

A more detailed environmental study of the dust from 130 Liberty Street, a.k.a. "Deutsche Bank" and "Bankers Trust Plaza". The building was situated South of the World Trade Center 2.

Download PDF
Tnemec
USGS – United States Geological Survey
Environmental studies of the World Trade Center after the terror attacks on September 11th 2001.

Additional studies

Determination of a Diagnostic Signature for World Trade Center Dust using Scanning Electron Microscopy Point Counting Techniques,
Gregory P. Meeker, Amy M. Bern, Heather A. Lowers, and Isabelle K. Brownfield
Spectroscopic and X-Ray Diffraction Analyses of Asbestos in the World Trade Center Dust, Asbestos Content of the Settled Dust
G.A. Swayze, R.N. Clark, S.J. Sutley, T.M. Hoefen, G.S. Plumlee, G.P. Meeker, I.K. Brownfield, K.E. Livo, and L.C. Morath
U. S. Geological Survey, Denver, Colorado
The Washington Post