---
Hvordan bruges 911facts.dk?
Hvordan får du mest ud af denne site?
---
Ny bog på dansk
HVORFOR bliver folk konspirationsteoretikere?
HVORFOR er konspirations-
teoretikere så frustrerende at tale med?
HVORFOR er konspirations-
teoretikeres adfærd så ekstrem?
Disse spørgsmål bliver besvaret i denne bog, der samtidig klarlægger, hvorfor de gængse tiltag overfor konspirations-
teoretikere ikke virker.
Læs mere
---
Sandhedsbevægelsen
---
Publikationer
---
Booking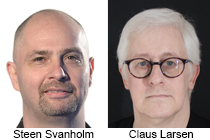 Er du interesseret i at booke os til foredrag eller workshop, så kan du gøre det
her
.
---
Facebook

---
Privatlivspolitik
Læs om vores privatlivspolitik.
---
Andre tekniske undersøgelser
Udover de større videnskabelige og tekniske undersøgelser af terrorangrebet findes der en række andre undersøgelser af forskellig art. Her kan man finde en voksende liste over disse.
American Society of Civil Engineers
Environmental Health Perspectives
Månedlig peer-reviewed journal, med research og nyheder, udgivet med støtte fra The National Institute of Environmental Health Sciences, National Institutes of Health, U.S. Department of Health and Human Services.
Health and Environmental Consequences of the World Trade Center Disaster,
Philip J. Landrigan, Paul J. Lioy, George Thurston, Gertrud Berkowitz, L. C. Chen, Steven N. Chillrud, Stephen H. Gavett, Panos G. Georggopoulos, Alison S. Geyh, Stephen Levin, Frederica Perera, Stephen M. Rappaport, Christopher Small, and the NIEHS World Trade Center Working Group
Environmental Health Perspectives, Vol. 112, No. 6, May 2004

World Trade Center fine particulate matter–chemistry and toxic respiratory effects: an overview.,
Stephen H Gavett

Chemical analysis of World Trade Center fine particulate matter for use in toxicologic assessment,
John K McGee, Lung Chi Chen, Mitchell D Cohen, Glen R Chee, Colette M Prophete, Najwa Haykal-Coates, Shirley J Wasson, Teri L Conner, Daniel L Costa, and Stephen H Gavett
Lawrence Berkeley National Laboratory
Mailman School of Public Health, Columbia University
World Trade Center Environmental Contaminant Database, (WTCECD)
En database med miljødata fra New York City og New Jersey, opsamlet i tiden før og efter terrorangrebet den 11. september 2001.
Prøver inkluderer:

outdoor air, outdoor bulk dust, indoor air, and indoor dust wipes specifically in response to the disaster by the USEPA and NYSDEC; approximately 200 parameters are present, including particulate matter mass (PM2.5, PM10), volatile organic compounds (VOCs), dioxins, polychlorinated biphenyls (PCBs), metals, and asbestos.
air quality data reported to EPA's Aerometric Information Retrieval System (AIRS) data repository from fixed-site air quality monitoring stations run by local, state and federal environmental agencies from 1970 to December 31, 2004. These include ozone, sulfur dioxide, nitrogen dioxide, carbon monoxide, lead, particulate matter mass (TSP, PM10, PM2.5) plus parameters measured on an irregular basis which include a suite of volatile organic compounds (VOCs), dioxins, polychlorinated biphenyls (PCBs), particle-associated metals, and limited meteorological data.
Massachusetts Institute of Technology (MIT)
Hele rapporten kan hentes her PDF (9962KB).
MCEER
MCEER er en amerikansk organisation, støttet af bl.a. the National Science Foundation og det amerikanske katastrofeberedskab, Federal Emergency Management Agency (FEMA). MCEER har til formål at undersøge effekterne af jordskælv og andre katastrofer, så samfundet er bedre rustet til at forhindre skader og forebygge at de opstår.

Efter terrorangrebet undersøgte MCEER skaderne på bygningerne ved Ground Zero, og publicerede flere rapporter herom.
Merritt & Harris
Merrit & Harris er et konsulentfirma der udfører forskellige tekniske undersøgelser af bygninger. I 2000 fik de til opgave at undersøge World Trade Center 1 og 2s bygningsmæssige tilstand. Rapporterne udkom i december 2000, og omfatter også tidligere undersøgelser foretaget af andre ekspertvirksomheder.
Report 1

Report 2
Mesothelioma Center
Giftigt asbest og andre kræftfremkaldende stoffer blev frigjort da bygningerne i World Trade Center komplekset blev ødelagt. Redningsmandskab, overlevende og indbyggere der blev udsat for støvet har oplevet vejrtrækningsproblemer og kræft.

Mesothelioma Center er en ledende mesothelioma interessegruppe med det største online mesothelioma støttecenter for patienter, omsorgspersoner og pårørende.

Research artikler
MVA Scientific Consultants
National Environmental Health Association
| | |
| --- | --- |
| National Environmental Health Association er en organisation der arbejder for bedre arbejdsmiljø. I 2003 udgav de denne rapport om de helbredsmæssige konsekvenser af oprydningsarbejdet på Manhattan, og omkring Pentagon. | |
| | Download PDF |
Occupational Safety and Health Administration
| | |
| --- | --- |
| Occupational Safety and Health Administration er den amerikanske pendant til arbejdstilsynet. I 2003 udgav de denne rapport om de mulige farer redningsmandskabet stod over for, under oprydningsarbejdet på Manhattan. | |
| | Download PDF |
R.J. Lee Group / Deutsche Bank
Damage Assessment

130 Liberty Street Property
Report Date: December 2003
WTC Dust Signature Report
Composition and Morphology

Miljøundersøgelse af støv fra 130 Liberty Street, også kendt som "Deutsche Bank" og "Bankers Trust Plaza". Bygningen lå umiddelbart syd for World Trade Center 2.

Download PDF
---
Signature Assessment

130 Liberty Street Property
Report Date: May 2004
Expert Report
WTC Dust Signature

En mere detaljeret miljøundersøgelse af støv fra 130 Liberty Street, også kendt som "Deutsche Bank" og "Bankers Trust Plaza". Bygningen lå umiddelbart syd for World Trade Center 2.

Download PDF
Tnemec
USGS – United States Geological Survey
Miljøundersøgelser af World Trade Center efter terrorangrebet den 11. september 2001.

Supplerende undersøgelser

Determination of a Diagnostic Signature for World Trade Center Dust using Scanning Electron Microscopy Point Counting Techniques,
Gregory P. Meeker, Amy M. Bern, Heather A. Lowers, and Isabelle K. Brownfield
Spectroscopic and X-Ray Diffraction Analyses of Asbestos in the World Trade Center Dust, Asbestos Content of the Settled Dust
G.A. Swayze, R.N. Clark, S.J. Sutley, T.M. Hoefen, G.S. Plumlee, G.P. Meeker, I.K. Brownfield, K.E. Livo, and L.C. Morath
U. S. Geological Survey, Denver, Colorado
The Washington Post